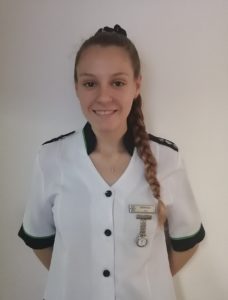 ILSE SCHOLTZ:   THE EXCEPTIONAL STUDENT NURSE AWARDS –  PORT ELIZABETH 2020.
My goal was to become a nurse so that I could change people's perception of nursing. I want to show people that being a nurse is much more than washing people and carrying bedpans but it is about caring and nursing them back to health.  During my three years of studying nursing, I have grown so much in my faith and it is where I experience God the most as He always sends me a patient that needs my help, but I need their help as well.
Some of the challenges I have faced is having to tell a woman, that is the same age as me, that they have a disease that might not be cured. Studying for this profession is emotionally and physically draining.
I am extremely passionate about what I do, and I want to be a role model for young people to not only strive for money but to do what they love. I want to encourage, motivate and educate others to reach their goals. I still hope to change the way people view my profession, however I will continue to do my best for my patients.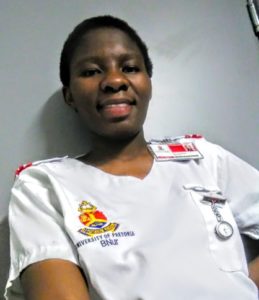 MAILULA MAKOLE:  THE EXCEPTIONAL STUDENT NURSE AWARDS – UNIVERSITY OF PRETORIA 2020.
My name is Mailula Makole. I am a 3rd year nursing student at the University of Pretoria. I have always been passionate about nursing from a young age. I used to see how nurses
cared for the patients whenever I visited hospitals or clinics and from that day I vowed to help someone in their vulnerable state and give them hope.
Every moment that is spent interacting with the patients gives the opportunity to listen to them and help them as best I can. Every day I am reminded that I can make a difference in somebody's life and so I choose to do my job well so that others can benefit.
We are required to be emotionally strong and not to be emotionally attached to the patients. This is a real challenge for me as I spend most of time interacting with the patient and helping them deal with being hospitalised. Inevitably I find myself building a relationship with my patient.
What I hope to witness in my career, is how the world sees us as nurses. It is said that, "Be the change you want to see in the world." I believe that if we change how we behave and carry ourselves we will change how the world sees us.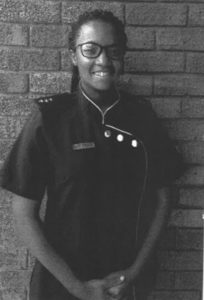 NTABISENG MANELE:   THE EXCEPTIONAL STUDENT NURSE AWARDS –  UNIVERSITY OF THE FREE STATE 2020.
I chose this career out of passion and zeal to save lives and promoting the health and welfare of the citizens of South Africa. The community deserves proper health care services and I plan to promote and ensure that it is provided adequately. In my family, my two aunts are retired nurses and this motivated me to follow into their footsteps after realizing that they were performing a noble function of helping people in need.
Through my interaction with the patients, I learned to appreciate and be sensitive to cultural diversity. The fact that nursing is my calling it gives me joy to make a difference in the lives of other people.
The challenges that we face as nurses is the inadequate resources which hinders the provision of better and improved health care to our community. Understaffing in public hospitals as a result of budgetary constraints. Overcrowding in different wards without adequate number of beds. Lack of recognition of nursing as a valuable profession which results in salary disparities as opposed to other profession. Long working hours. Stressful environment. Not enough time for quality bed site care due to overwhelming administrative and paperwork. These are but a few challenges we face on a daily basis.
I was given the opportunity by the University of the Free State to participate in an exchange programme in Belgium. My goal is to contribute to the training of nursing students in the University of the Free State that will serve as a platform for future research of different diseases. I would love to inspire young boys and girls who are still at high school to choose this noble profession.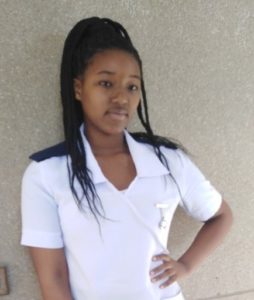 BRIDGETTE MBASHE: THE EXCEPTIONAL STUDENT NURSE AWARDS – UNIVERSITY OF WESTERN CAPE 2020.
My passion for nursing started when I was a young girl. I would often see the people in my community get sick and remain sick for a long time. Eventually they would pass away without receiving proper health care and this has motivated me to help others. My goal is to increase the number of nurses in the rural areas so that we can help those that cannot help themselves.
Nursing gives me the opportunity to interact with patients and lend a listening ear. I have the opportunity of establishing what might have led to their sickness and then draw up a nursing care plan to help the patient. In understanding their background, I am able to highlight harmful risks and encourage preventative measures. In this way I believe I am making a difference in my country.
When I have completed my studies, my goal is to ensure that there is a level of excellence that is demonstrated when attending to a patient. I believe that every person deserves to be treated with care and dignity.
AMAHLE ZWEZWE: THE EXCEPTIONAL STUDENT NURSE AWARDS – UNIVERSITY OF KWAZULU-NATAL 2020.
My name is Amahle Zwezwe and I am currently in my second year of nursing at University of KwaZulu-Natal.  My love for nursing started when I needed to take care of my sister and mother. My passion for nursing grew when I witnessed a role model in our community show such love, care and patience to those around her. Ever since I began my nursing studies, I have learnt that there is a tangible satisfaction in helping others, especially elderly people and very sick patients.
I believe that the only way I can make a difference is by being innovative, so that future generations can look back and see how hard we worked to get where we are. It is my goal to become a professional midwife, specialization in teenage and pre-teen pregnancy.  I hope to focus on reducing infant and maternal mortality rate, as well as HIV transmission from mother to child. According to the World Health Organization (WHO) the infant mortality rate has decreased to 75% from the period 1990 to 2017. I hope to contribute to these statistics and be part of reducing these rates because I believe that the youth is the future.
This bursary represents an opportunity to fully focus my attention on the main objective of achieving the best I can in nursing.
"People may forget what you said, but they will never forget how you made them feel."
– Maya Angelo