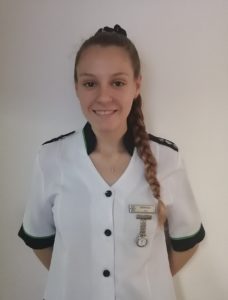 ILSE SCHOLTZ:   1st PLACE.   THE EXCEPTIONAL STUDENT NURSE AWARDS –  PORT ELIZABETH 2019.
What made you choose nursing?
I didn't know what I was getting myself into!   I wanted to become the nurse who changes societies perception regarding our profession.  I want to show people that being a nurse is so much more than washing patients and carrying bedpans.
What do you enjoy most about nursing?
During my three years of studying nursing, I have grown so much in my faith as the hospital has become my church!   This is where I experience God the most as He always finds a way to send me a patient that not only needs my help, but I need them.  I can then apply the theory that I learn in class – this is what keeps me going.  Having this knowledge in what I do makes me feel powerful.    If I can make one person smile during my shift, I feel I have reached my goal!
What are some of the hardship/challenges you have faced during your studies?
Having to tell a woman that was just one year younger than me that she has a disease that cannot be cured: this broke my heart. Studying the Bachelor's Degree of Nursing Science is not easy.  It is not only time consuming but physically and emotionally draining.  It is difficult to have a balance between studies, social life and a weekend job as a way of earning money.
In what way do you hope to make a difference in the lives of others?
Nursing has changed me so much!   I am a stronger, more confident person and I won't change my profession for anything in the world.   I am extremely passionate about what I do, and I want to be a role model for young people.   I hope to encourage them not to strive for money but to do what they love because this is much more rewarding at the end of the day.   I want to encourage, motivate and educate others to reach their goals.
I sincerely hope to change the way people view my profession, as nursing is a challenging profession that requires hard work.   We work twelve-hour shifts, on our feet for most of the day, are often understaffed, undervalued and overworked!   We always try to smile even though sometimes it feels as if our world as crashing.   But we do this all to care for our patients, as they are our priority.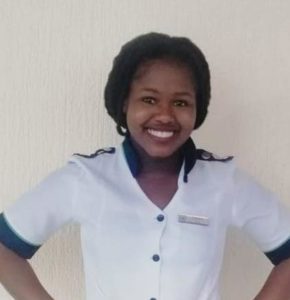 NOMBULELO ZUNGU:  2ND PLACE.   THE EXCEPTIONAL STUDENT NURSE AWARDS – PORT ELIZABETH 2019
Why did you choose nursing?
From a young age I had the mentality that people shouldn't have to suffer and die prematurely due to disease and injury.  Nursing is amazing because it has offered me the opportunity to provide care and healing to the sick and injured.  It honestly gives me joy to put a smile on a person's face and make their lives better with my touch.
What do you enjoy about your nursing career?
One thing I enjoy the most is meeting new people, communicating with my patients  to educate them about the laws of health. It warms my heart to see patients that I care for getting better and eventually being discharged. I enjoy working with the staff and learning new procedures every day. I love being trained  so that I can provide excellent care for my patients with confidence.
What challenges have you faced while studying?
The main challenge is the work load: having to balance my hospital hours with academics. Raising the finances to cover my university tuition is also a big challenge.
How are you hoping to make a difference in society today?
I plan to improve my skills and study further so that I will be able to open my own clinic in a rural area where people do not have access to health care.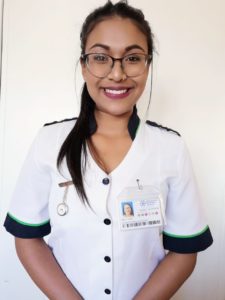 CARISE JOHNS:   3RD PLACE.   THE EXCEPTIONAL STUDENT NURSE AWARDS –  PORT ELIZABETH 2019.
Why did you choose to study nursing?
Throughout my childhood, I knew what I wanted to become and that was to be a nurse. I wanted to help people and make a difference in their lives.
What do you enjoy about working as a nurse?
Nursing is not for anybody:  it is a passion.  I love what I do!   I find it interesting and rewarding.
What are some of the challenges you have faced during your training?
Some of the challenges I have faced was learning how to cope.  There seems to be no break during our university studies and our practical training. If I'm not studying, I'm working my practical hours but it's worth the sacrifice.
How do you hope to make a difference in the lives of others?
I constantly try to do my best because I want to show people that the world is only changed by your example and not by your opinions.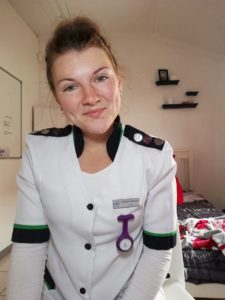 MONIQUE VAN DER MERWE: 4th PLACE. THE EXCEPTIONAL STUDENT NURSE AWARDS – PORT ELIZABETH 2019.
What made you choose nursing?
When I started to think about my career path, nursing was not the first thing that came to mind, but I knew for certain that I wanted to go into the medical field. I then spoke to a nurse who told me about all the options there are when going into the medical field. After she told me all about nursing, I was sold! I realised that there is not a better career path than this, since I would be able to help those who are in need and at the same time experience that thrill of dealing with emergencies.
What do you love about nursing?
There are so many things that I love about nursing. I love how it makes me feel most days. I love how it humbles me, how it brings me closer to God, how it challenges me and forces me out of my comfort zone. I love how I am able to save someone's life. I love the fact that I am growing more and more each day, because of nursing.
What are the challenges you've faced in your studies and in nursing?
The workload is definitely one of the biggest struggles I have faced thus far. Adapting and keeping up with my studies is also something I struggle with. The fact that people tend to sort of look down on nurses is something that really breaks my heart and will always be a challenge for me.
How do you hope to make a difference in society as a nurse?
I want to be the change in health care, I want to improve the care that all patients receive. I want to work with my colleagues and reach the sustainable developmental goals. I want to change the stereotype that all nurses are lazy. I AM GOING TO CHANGE THAT STEREOTYPE.
"People may forget what you said, but they will never forget how you made them feel."
– Maya Angelo