Some people will always be content with simply being a passenger on the train. Others, while enjoying the journey, will keep moving forward on the Train of Opportunity, to ultimately take over the Driver's seat!  Mr. Aghmat Mohamed is such a man.
Did the family and friends of this young boy growing up in Manenberg, Cape Town, ever imagine that he would one day be the Director of Nursing Services at one of the largest hospitals in South Africa?   It is our privilege to share Mr. Aghmat Mohamed's story……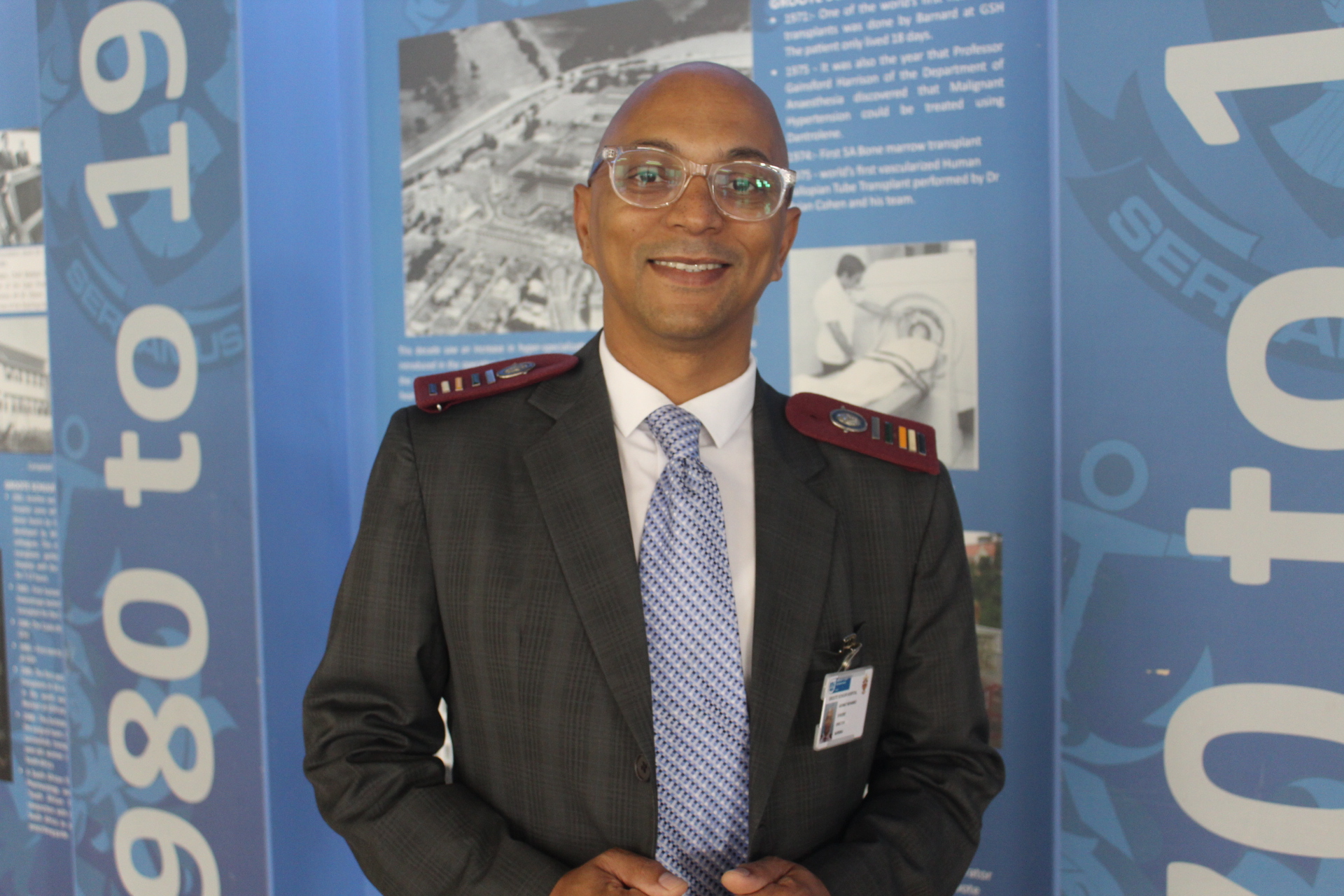 What made you choose nursing as a career?
My life was hugely impacted at a young age by the district nurse who visited our home regularly to dress an infected wound of my grandmother. She was a diabetic and because I was very close to her I was deeply grateful for the help she received. Not only did this compassionate nurse attend to my gran, treating her wound, but her kind and caring spirit had an impact on everyone in the home.  I was also impacted by 2 next door neighbours who were nurses. These wonderful people all made an indelible impression on me and I hoped that one day, my life would affect others in the same way.
To be honest, nursing was not my first choice of a career! From a young age it was drummed into my head that I would become a doctor. But I made the decision to study nursing and I have never regretted this for one moment.
Where did you train and what further qualifications do you have?
I matriculated at the end of 1993, just months before the new South Africa was born. I started a diploma in general nursing at the Nico Malan Nursing College in 1995. This integrated diploma included psychiatry, community health and midwifery. From the year 2000 onwards, I completed a post-graduate diploma in Nursing Management (CPUT), a post-graduate diploma in Nursing Education (Stellenbosch University). I then moved to Ireland to study and work for 10 years.  I have always loved reading books, acquiring knowledge and experience in the various fields that would enhance my nursing career. I completed a Bachelor of Nursing Science degree to Masters level through the Royal College of Surgeons in Dublin. The MSc was in Creative Leadership and Organization Learning. I really believe in personal growth and development through education. To keep enhancing my skills over the years, I have completed many short courses in medical negligence, conflict management and mediation, pharmacology and primary critical skills.
What do you love most about your career?
I deeply value my profession and feel proud of the fact that nurses all over the world are daily making a HUGE DIFFERENCE in the lives of people. From the cradle to the grave, almost every human being is brought into this world by a midwife or nurse. When a person is reaching the end of their life and eminent death, who is at the bedside with that patient and their family? 99% of the time it is a NURSE!
Every second of what I do is rewarding!  You might not get the top salary, but there are much greater rewards. I love talking to people, seeing their health improve, holding their hands, wiping their tears. This brings a deep sense of meaning for me which money can't buy!  If you are willing to work hard to equip yourself, finding the right job to suit your skills, making the most of every opportunity, you can earn a good salary as a nurse and live comfortably.  But for me, it is not about the money! I am conscious of the fact God Almighty sees what I do: I work towards this and look forward to His rewards after this life.
Almost 3 decades of learning through my nursing profession has equipped me to manage the nursing services of a hospital with 1700 nurses. I love my job. I can walk with confidence into any meeting, knowing that I can make a valuable contribution on a wide variety of subjects connected to healthcare. I enjoy working with a diverse community of people and highly commend many of my nursing colleagues for being strong, resourceful and resilient women.
What do you find very challenging in your nursing career?
It is not easy to live and work in a country where nurses are no longer valued, as they were in the past. I worked overseas for a number of years where people think very highly of nurses: nurses are carried on golden and silver platters! 1st World countries are investing huge finance in the training of nurses as they recognize the critical 'life-saving work' that they do. Unfortunately, in this country that is not the case. Yes we do enjoy some degree of respect, but the public seems to have a different model?attitude here in South Africa. I find this extremely frustrating and personally challenging as we are not appreciated/valued in the same way as other healthcare professionals. People think they understand nursing, but they have no clue as to the massive impact nurses have on the successful running of a hospital, excellence in patient and family care, the healthcare of a community, province, country, and the world!
What advice would you give a young person hoping to pursue a career in nursing?
The opportunities for an exceptional professional nurse are endless! This is a unique profession for someone who genuinely loves people. If you love people, are a good communicator with strong inter-personal skills, then nursing might be for you! At the same time, you need a lot of patience! If you are willing to go on a road of constant learning, being creative, making the most of every opportunity that comes your way, the world is your oyster! Expand your horizons, travel abroad: the choices you make personally will determine your future.
People are saying it is not easy to get the right young people into nursing today. While this might be true, I see the need for nurses in our country as a wonderful opportunity for future generations! I love working with young people, sharing my knowledge, encouraging young blood into this noble profession. Once they have completed their degree, there will always be a job opportunity for an exceptional nurse, anywhere in the world!
How are you making a difference through your career?
As the Director of Nursing Services at Groote Schuur Hospital, I strive to ensure quality nursing care is delivered 24/7. If there is a complaint, I make sure that the problems are addressed, and solutions offered. I put systems in place so that same issues don't arise again.
From the very moment I started my nursing career, I knew that I was making a difference in the lives of the sick, helping them in manage their pain, and get better. I spent 7.5 years in Dublin working with undergrad and postgraduate nursing students, sharing knowledge which I knew would positively impact their lives into the future.
When I do have time, I try to serve in my community, giving motivational talks to children, the youth, the elderly and the sick. I enjoy helping my brother with the youth, reaching out to people on the streets, feeding and helping them. Next year I hope to help children living in overcrowded flats in the Cape Flats to find suitable study environments. Having a good education and the opportunity to study, has made me the person I am today. I would love to be part of a team that is providing this opportunity for many children. Reaching out to the needy has become second nature to me as a nurse. This brings me a daily sense of deep joy!
Something to ponder:  Did that kind, district nurse ever realise what a great impression she would make on a young child, who would one day become a rising star in the world of nursing today?