PUTTING OTHERS BEFORE SELF.
Once in a blue moon we are fortunate enough to meet someone who so intentionally flies under the radar and yet is making such a significant contribution in their profession on a daily basis. One of my great honours in interviewing nurses for the TEN Campaign is coming into contact with exceptionally humble and selfless people who sometimes even struggle to talk about themselves because their lives are completely focused on others.
On Monday the 8th of April 2019 I had another such opportunity to sit down with one of Mediclinic's most celebrated nurses, Ntsiki Mbodlane. I met with her just after she had finished a 12-hour shift working in maternity, under Sr. Liz Brink who is her role model and mentor. Ntsiki had not realised that we would be filming the interview, so when she saw the camera she became quite nervous, but that didn't stop her sweet and bubbly personality from coming through as we sat in the reception area to chat.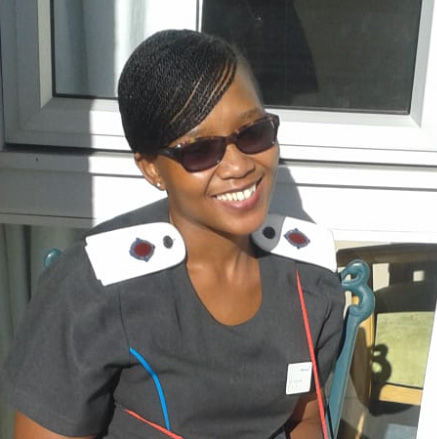 I was told beforehand that Ntsiki had won the 'Mediclinic 2016 Nurse of the Year Award', but if there is any common denominator amongst nurses, it is that they do not like to boast about their achievements! When I asked Ntsiki about her award she brushed it off so fervently that I decided to leave the topic for later in our interview.
Ntsiki first knew that she wanted to become a nurse when she was in a serious car accident at the age of 9. She needed to be hospitalized at Red Cross Children's Hospital for 2 months. Through the care and compassion of the staff she realised that being a nurse was something she aspired to and did not consider any other career after that. She was fortunate enough to be accepted to study nursing and had an incredibly supportive mother who was able to fund her studies through a private nursing college. Amazingly, once she had completed her training she was placed at Red Cross Children's hospital to do her practical, the same place where being cared for as a child, her passion to be a nurse was birthed! But not even the nostalgic memories of childhood healing kept her from some of the very harsh realities that nurses face on a daily basis.
When I asked what has been the hardest moment or experience for her so far in her nursing career, she told me the story of a senior nurse asking for her assistance in her first practical year. The sister called her into a small hospital room to "help" her with one of the infant patients. As she walked up to the hospital bed she saw that the baby's skin was yellow and the tiny body did not move. At this point she did not know that the child had died and the sister had actually asked her to assist in wrapping this little body up to be taken away. She told me how she could not sleep that night, and how that experience affected her deeply. Up until this day the hardest aspect of her job is dealing with stillborn and infant deaths. As she hesitantly shared she apologized for speaking of such things, as if to suggest that the really hard and dark moments of nursing should not be spoken about. I reassured her that although nursing is so fulfilling it is also difficult at times. I really appreciated the candour in which she spoke about what has made her job very hard, but also incredibly rewarding. For Ntsiki, seeing people become physically and mentally well again after what is often a traumatic experience makes being a nurse extremely worthwhile. She said that the hardest days are fulfilling because when she goes home she knows deep down she has been able to bring about change in people's lives.
I asked a second time about the Nurse of the year award:  she reluctantly told me that she had been voted in by her colleagues and the staff at the Constantiaberg Mediclinic. Ntsiki knew nothing about this until she actually won! Her only response was, "someone else should have this!" We both laughed and I felt humbled once again as she diverted the conversation from herself onto what it means to be an exceptional nurse, which in her opinion is someone who is kind, compassionate, understanding, a person who is passionate about helping others.
In life we often struggle between caring for ourselves and caring for others:  which one gets preference? And then again we are reminded that in order to care for others we must first consider our own wellbeing. But nursing often requires the scales to tip far beyond what many would consider a "good balance" and yet this is how Ntsiki thrives! She is energized by helping those in need and she finds her purpose in a career that is based on putting others before self. She is graceful, has a calming presence about her which created a warmth to the atmosphere in the waiting room of the hospital. It is clear that she was born for this, and being a nurse is what lights up her heart. Sometimes there are no easy answers or solutions for patients. Ntsiki spoke about never knowing what to say when mothers lose babies in childbirth:  this is still a great challenge for her. Compassion can be difficult because we can't put it into words. It is practiced through a gentle word, affection, a soft look, taking the time to empathize and sit in the moment of suffering.
After 12 years of serving as a nurse Ntsiki will easily say that she is still learning, just as the greatest teachers will always remain students. My time with her was a subtle yet strong reminder to cultivate humility as a way of life, that it is in genuinely caring for others where the greatest fulfilment lies.
Ntsiki Mbodlane is truly the definition of an EXCEPTIONAL NURSE.
Written by Shayley Basson